Satellite Phones
XT Handset
The XT handset combines the reliability of unparalleled phone functionality, with the dependability of Indigo Telecoms's superior network. .
The XT ensures you stay in touch where ever you go.
Features at a glance
- Durable satellite phone
- Waypoint navigation with GPS navigation
- Competitive pricing
- Easy internet and email access with GmPRS

- Easy readability in direct sunlight
- Battery saving technology with brightness sensor for reduced battery consumption
- Uninterrupted signal
- Organiser including calendar, world time and alarm functions
- Splash and dust protection with rubber seal and plugs
- Perfectly balanced size-to-weight ratio
- Solid retractable antenna reduces risk of bending and breaking
- User-friendly menu structure with fast access to functions
- Improved grip and handling for rough environments
SG-2520 Handset
If you want a mobile phone that goes beyond limitations of traditional terrestial mobile networks, look no further than the SG-2520 smartphone intergrating
Satellite, GSM, GmPRS (data) and GPS into an all-in-one phone that doesn't disappoint. A high performance device that provides affordable connectivity in either
GSM or Satellite modes to ensure that you stay connected across 100% of Australia's landmass and out to sea.

Features at a glance
- Dual mode GSM & Satellite all-in-one
- Hands free operation with Bluetooth connectivity
- Competitive pricing
- Reliable and accurate GPS positioning
- Convenient internet access through GmPRS
- Easy viewing of multimedia applications with high resolution,
user-friendly display
- Messaging via SMS and email
We are able to take care of all your needs.
Headsets
GN 9930E is designed to work with traditional desk telephones bringing hands-free convenience and superior audio quality.
Combined with the remote handset lifter you will be able to answer calls away from your desk by pressing the answer button on the headset.
You still remain completely cordless.
Product features
- Jabra popular office wireless headset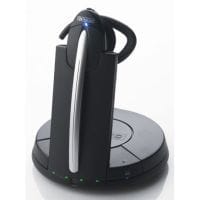 - Stylish, lightweight design
- Excellent sound clarity
- Up to 9 hours talk time
- Up to 100m of wireless freedom
-Multiple wearing styles
Sennheiser DW OFFICE is a singlesided DECT headset. Enjoy your calls in HD voice clarity and get natural high definition sound for superior voice clarity.
Imagine making every call in comfort, and being able to focus on what's important: the conversation.
DW Office connects to both desk phone and softphone.
Products features
- Sennheiser HD voice clarity - Wideband sound for a more natural experience
- Full work day talk time - 8 hours in wideband soundmode and 12 hours in narrowband sound mode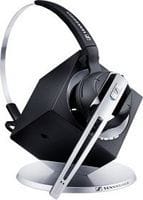 - Intelligent fast charging - 50% in 20 minutes gives you 4 hours talk time
- Long distance wireless range - Upto 55 metres and in line of sight up to 180 metres
- Desk phone and soft phone - switch from one communication channel to the other
- Microsoft communicator compatible