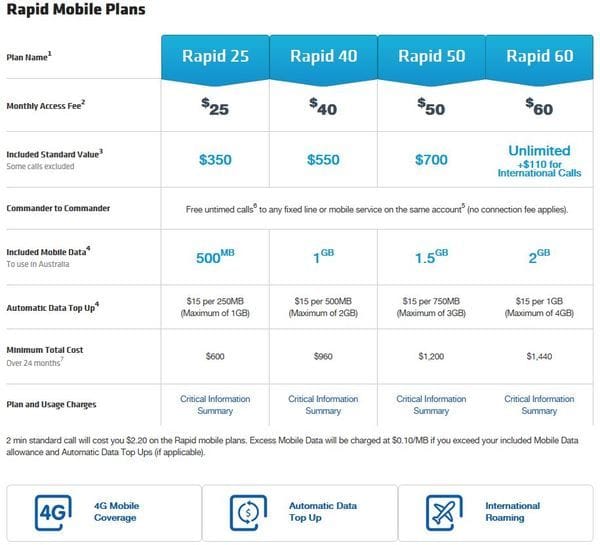 THINGS YOU SHOULD KNOW:
Service delivered via the Optus 4G and 3G/HSDPA GSM network, subject to network availability. 4G and 3G services are not available in all areas. 4G is available in selected metropolitan areas only. For coverage visit Mobile Coverage.Total Minimum Costs are calculated over 24 month contract term and do not include hardware costs, usage not within the included values and optional extras. Early Termination Fees apply equal to monthly access fee x 50% x months remaining in the contract unless otherwise stated, calls are charged in one (1) minute increments.
Monthly Access Fee is charged in advance and is the minimum amount you pay each month, regardless of your usage. Monthly Access Fees, Included Standard Value, Included International Value and Included Mobile Data are subject to a pro rata calculation in your first month of activation and expire at the end of each billing period.
Included Standard Value includes Standard National Calls to fixed/mobile, Calls to 13/1300/1800 Numbers and Call Forward to national numbers only. Any usage types not listed as included are excluded. Included International Value applies to International Calls only. International call rates are available upon request. International Roaming barred on activation. Calls to 124 937 directory assistance are charged at $1.75 per call plus cost of connection based on Standard National Call charges. If you elect to have the 124 937 results sent to you via SMS, a 25c charge will apply. Calls to 13 & 1300 numbers are charged at 90c per min, plus 40c connection fee. Calls to 1800 numbers are charged at 44c per minute.
Included Mobile Data applies to national use only, if you exceed your data allowance you will be automatically charged $15 per automatic top up. The automatic top up is 50% of your data allowance, automatic top ups are applied up to a maximum of 4 times in a billing cycle, further use will be charged at $0.10/MB.
Commander to Commander calls include calls made from your Commander mobile to other mobiles and fixed line services on the same Commander account, no Connection Fee applies.
The Commander Fair Use Policy (FUP) and Acceptable Use Policy (AUP) apply.
Total Minimum Costs are calculated over 24 months and do not include hardware costs which are charged separately.
Pricing correct as of 1st October 2013. Commander is a registered trademark of M2 Commander Pty Limited, ABN 85 136 950 082.